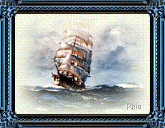 GENERATION E: Thomas Owsley and Ann Harris
Thomas Owsley born 11-Jun-1658, Stogursey, Somersetshire (Somerset County), England, married Ann Harris, (daughter of William Harris). Thomas died 10-Oct-1700, Stafford County, Virginia.
Thomas came to America from England around 1677. Thomas was involved in the trading industry which required traveling back and forth from Lyme Regis, England and the colony of Virginia in America. In 1679, young Thomas was captured from his ship by Algerian pirates (probably European outlaws). Thomas was released after his ransom was paid by the residents of the Glooston parish where his father was rector of the church.
Thomas eventually settled in the American colonies where he became a prominent citizen and land owner in Stafford County, Virginia. He served as County Clerk and Sheriff in Stafford County. He was a member of the House of Burgesses and served as Captain of Rangers on the Stafford frontier.
Thomas Owsley owned vast amounts of land in northern Virginia including his large plantation at the present site of Fort Belvoir in Stafford County. It is recorded in old Virginia records that Owsley's plantation was attacked by Indians in May of 1692. A negro woman slave was killed in the attack. Thomas was away from home. Upon his arrival, he and his Pisscataway Indian friend immediately pursued the attackers. Thomas returned home that night while the others continued their pursuit.
Thomas' wife, Ann Harris, was the daughter of William Harris, who was a prominent citizen in Virginia. After Thomas died in 1700, Ann later married John West. Ann's third husband was John Wheeler.
(An account of the life of Thomas Owsley written by Ronny Bodine.):
"Caught up by an adventuresome spirit young Thomas Owsley apparently never completed his colIege education, for, by September 1677, he had arrived in the Colony of Virginia. During the next three years he seems to have engaged in an enterprise that necessitated travel between England and the Colonies, It was during one such journey, in 1679, that he was taken prisoner by Algerian pirates and was ransomed by the villagers of Glooston, the parish in Leicestershire, England where his father was them serving as rector. By 1680 he had settled in Stafford County in which year, at the age of only 22 years, he held the position of Clerk of the County Court. From the earliest days this important position was always held by a man of education and Thomas Owsley was well suited for the post. His clerical duties appear, however, to have been of short duration, for he was soon again engaged in a more profitable business, as agent for one Colonel Cadwallader Jones, to traffic in a variety of commodities, excepting munitions, with the Nantecoke Indians. His business dealings were surely lucrative, resulting in an accumulation of wealth and prestige, sufficient to establish himself as host for the Stafford County Court in his home on 12 November 1690. During the ensuing years his status in the colony grew. He was given a commission in the Stafford County Militia and was appointed a Justice of the Peace. During this period militia officers generally held concurrent judicial positions within their respective counties and Thomas Owsley had his hands full ensuring both the safety of the region and his part in the administration of justice. On several occasions he forwarded letters to the governor's council and in one instance was the lone dissenting justice in a case heard before the county court. On 8 June 1692 Captain Thomas Owsley was given command of a detachment of ten men who were then added to the Potomac Rangers. Commissioned by the Virginia legislature, this group was to range the frontier from above the Occoquan to the head of this river as protection against hostile Indians. That same date he was sworn in for another one year term as Justice of the Peace.
A letter has survived from this period that presents a vivid picture of the danger that was often present to the early settlers and in this situation directly impacted upon Thomas. In 1692 he was residing upon his plantation on Pohick Pun when Indians attacked his home. The letter, presented to the Maryland General Assembly, describes the events of May 1692: ...Last night about 11 or 12 a Clock Came two men from Mr Owsleys to Captain Addisons to give notice that about 3 a Clock in the afternoon Mr. Owsleys negro Woman going betwixt the Lower and Upper house was almost killed by two Indians and hath two wounds in her head, and a peice of Skin the breadth of a Crown piece flead off her skull, and stabed under the right Breast, which wound is thought to be Mortal and Stabbed through one Arm, with several other small wounds, a Cooper being at a Little Distance heard her Cry out, who with another Man with him made towards her, which frightened them away and in a Little time after Mr. Owsley being out, came home with his Ranging Party and Eleven Pisscataway Indians with him, who immediately went after them & found where they had Camped near to the house. The Indians say they think by the footing there is ten of them. They pursued them so hard that they dropped several things 1st pair of ackasoons, one stick like a back sword much like that you did see at Captain Addisons; Mr Owsley returned to his house last night, but the Indians are still in pursuit, who says they doubt not to come up with them, unless they Come over Potowmack it Owsley and his Party is appointed by Our Indians to meet them again this Day;..
By this time, Thomas was a well respected man in the Colony. It was time to marry and raise a family. The woman he chose was the daughter of a British Army officer who had arrived in the Colony over 20 years earlier, Indeed, his bride Anne, was likely the only child of Lieutenant William Harris. During the ensuing ten years Anne gave her husband at least six children, two sons, Poyntz and Thomas, and four daughters, Jane, Ann, Mary and Sarah. In 1692 Thomas Owsley was elected to the Virginia House of Burgesses from Stafford County and took his oath as a Burgess on Friday, 3 March 1693. He served again from 1695 to 1696. The Journals of the House of Burgesses of Virginia record that on "Fryday, April 24th 1696, Mr. Martin Scarlet" was elected "Burgess of Stafford County in room of Capt. Thomas Owsley now sheriff of Stafford County." He again served as a Burgess in 1698, In the latter year, the militia officers included "Capt Thomas Owsley of Stafford parish, which later became Overwharton Parish, He was reflected as commanding a detachment of 53 men. On 15 November 1694, Thomas obtained two patents of land in Stafford County. The larger tract of 1000 acres was fronted on its southern point by Pohick Bay. The smaller 150 acre tract adjoined the larger at the northeast corner. He secured a grant of 600 acres on 17 November 1696 and another on 24 March 1697. This latter tract, comprising 640 acres, was situated some distance from his other holdings, but was undoubtedly prime land being located on the shore of the Potomac River in northeast Stafford County. On 3 June 1699, Thomas Owsley was appointed a Major in the Stafford County Militia and was thus second in command under Lieutenant Colonel George Mason, the commander-in-chief. That same year Thomas was again serving as Clerk of the County Court and continued in that position until his death on 10 October 1700. His death is attested to by a letter dated October 14, 1700, from Ralph Wormley, Secretary of Virginia, in which he notes the recent death of Mr. Thomas Owsley and recommends Mr. Leonard Sarout as a replacement (Stafford County Order Book pg 52-52).
The exact date of death of Thomas Owsley is known from a map survey of 1748 in the case of French Mason Vs. Daniel McCarty, March 25, 1748, on which is noted his grave and the comment "Owsly buryd there, as by a tomb stone, he dyed October ye 10th 1700". The survey was redrawn and published by Mitchell's "Begining at a White Oak", pg 64. The grave itself, now located on the Fort Belvoir Military reservation, is no longer identifiable. At his death land holdings of 2390 acres. In addition the inventory of his estate reveals that his widow, Anne Owsley, came into position of not only the household furniture and cattle, but servants as well."
CHILDREN OF THOMAS OWSLEY AND ANN HARRIS:
I. Jane Owsley born ABT 1685, Stafford County, Virginia, married James Gregg.
II. Ann Owsley born BEF 27-Mar-1698, Stafford County, Virginia, married Isaac Kent.
III. Mary Owsley born BEF 27-Mar-1698, Stafford County, Virginia.
IV. Thomas Owsley II born BEF 27-Mar-1698, Stafford County, Virginia, died ABT 1756. Thomas died BET 30-Mar-1750 and 04-Jul-1750, Fairfax County, Virginia. Thomas married (1) ABT 1730 to Name Unknown. Thomas married (2) ABT 1732, Ann Hudson, born ABT 1715, Virginia, died AFT 24-Jul-1756, Probably Loudoun County, Virginia.
Thomas Owsley was a prominent citizen and major land owner in northern Virginia. Thomas Owsley was a member of the Overwharton Parish in Stafford County, Virginia and later a member of the Hamilton Parish in Prince William County, Virginia. As a respected man of the area, Thomas Owsley served a Pilot and chain carrier in numerous surveys in northern Virginia. Thomas left a will naming all of his children.
V. Poyntz Owsley born Stafford County, Virginia.
VI. Sarah Owsley born ABT 1700, Stafford County, Virginia.
Click here for more information on Thomas Owsley and Ann Harris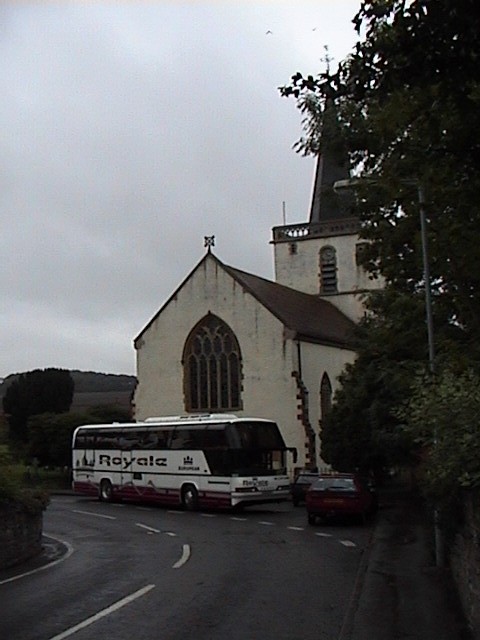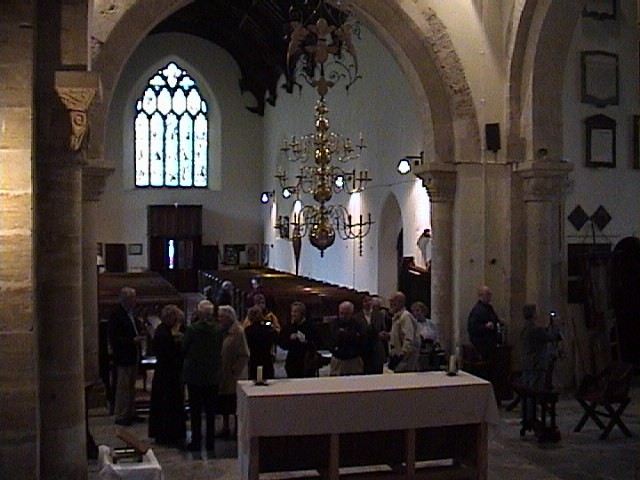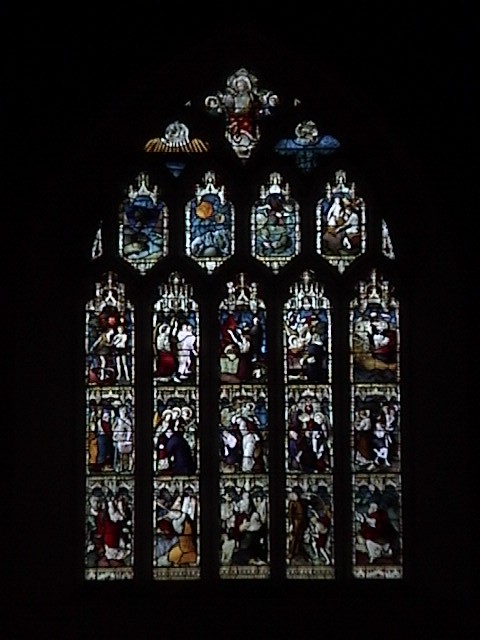 Church of St. Andrew, Stogursey
Stogursey, Somersetshire, England
Pictures by Milancie Adams and Al Tietjen - 9/26/2001
Owsley Family Historical Society (OFHS) English Heritage Tour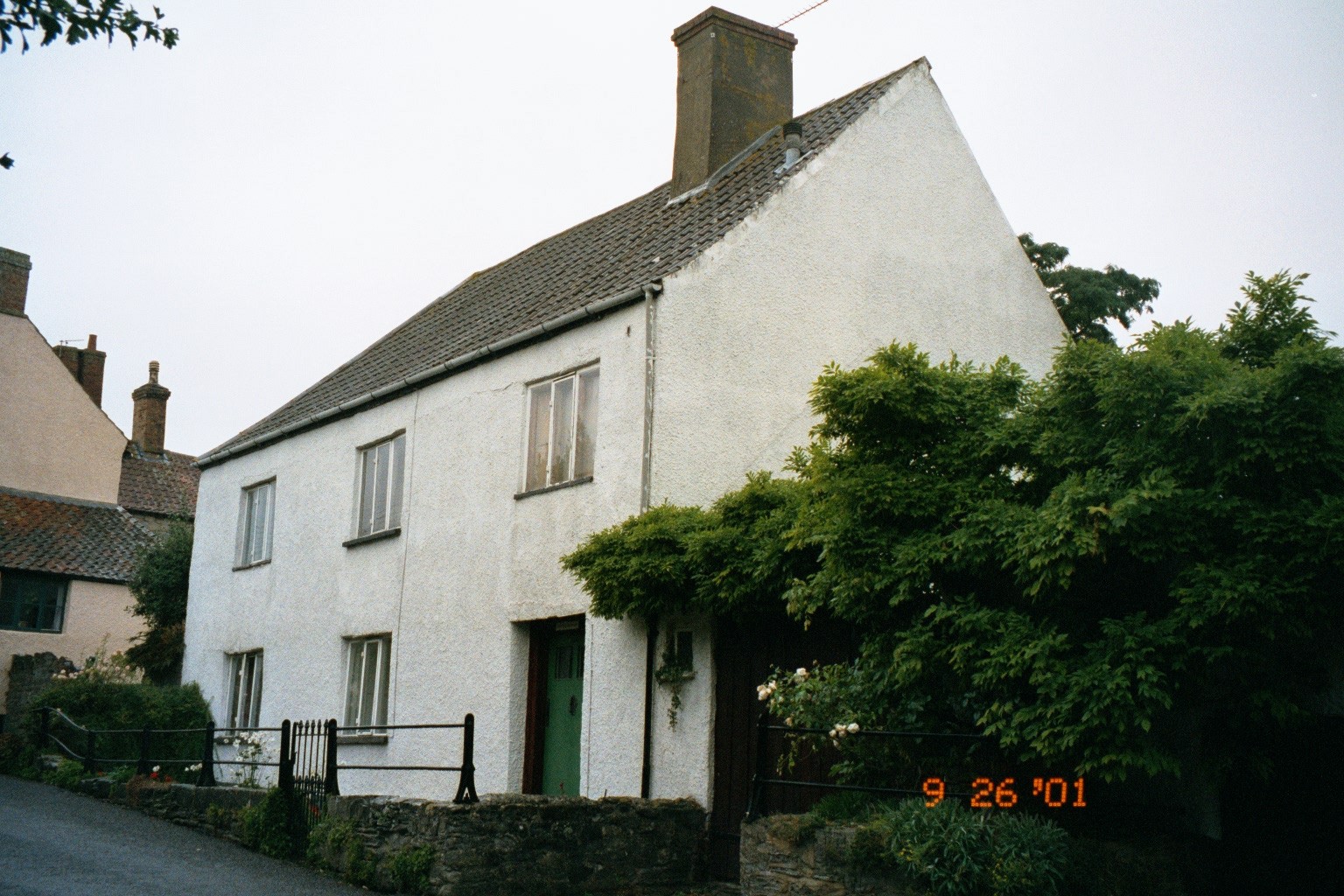 Birth Home of Thomas Owsley
Stogursey, Somersetshire, England
Pictures by Milancie Adams and Al Tietjen - 9/26/2001
Owsley Family Historical Society (OFHS) English Heritage Tour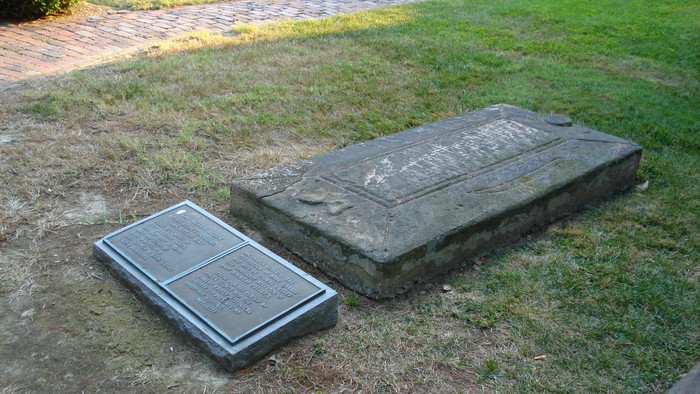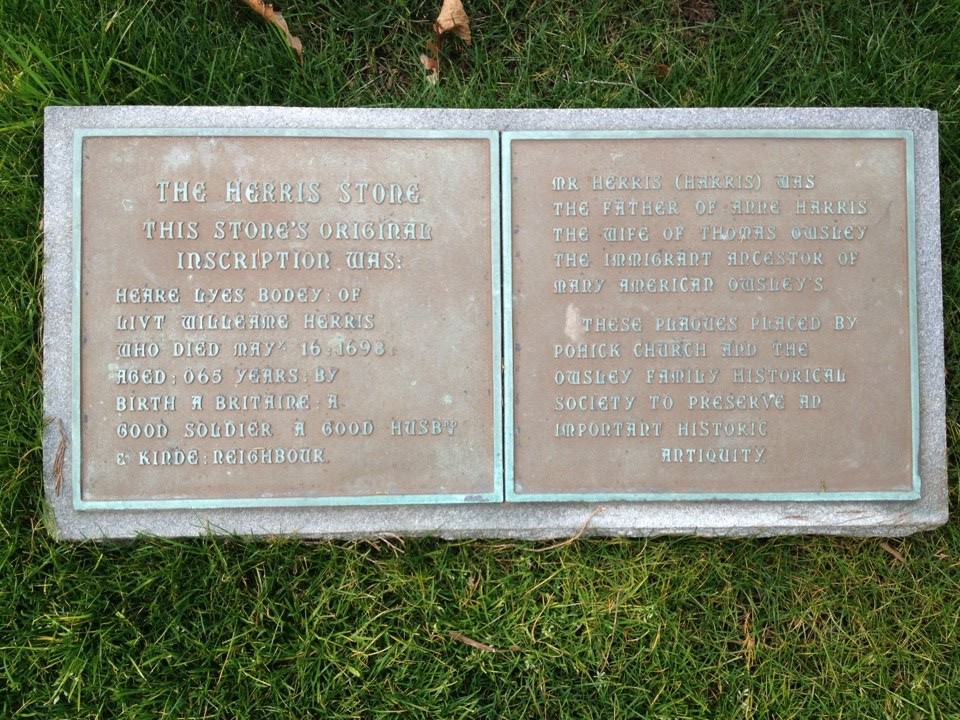 William Harris Gravestone and Monument

Pohick Episcopal Church Cemetery
Lorton, Fairfax County, Virginia
(NOTE: William Harris was the father of Ann Harris, wife of Thomas Owsley I.)
Lieutenant William Harris, Father-in-Law of Thomas Owsley

GO TO:
GENERATION #1 - Ann Hudson and Thomas Owsley II