"A kind and affectionate father, a dutiful husband,
and in short was one of the noblest works of God."
William Alexander was born in 1749 in Pennsylvania and died on June 15, 1838, in Hamilton County, Tennessee. William fought in the Revolutionary War and also went on expeditions against the Cherokee Indians. He spent his last days at the home of his son, David Alexander, near Dallas in Hamilton County, Tennessee.

William was the son of Joseph Alexander and his first wife, Margaret. For more information, please click on Ancestry of William Alexander located on the left side of this page.
William Alexander was residing in Augusta County, Virginia in September of 1774, when he was drafted as a militia man under Captain James Ewing and Lieutenant George Gibson. They "marched to the Warm Springs, then to Warwick's Fort on Greenbrier River and then to George Westfall's Fort on a branch of the Monongahala River in Tygart's Valley, where they remained to guard the fort."
George Westfall's Fort in Tygart's Valley, Randolph County, West Virginia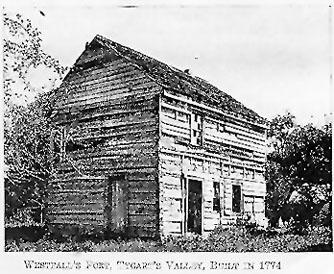 At the end of July 1776, he volunteered for an expedition against the Cherokees under Captain John Lyle, Lieutenant William McCutcheon and Ensign Joseph Long. They marched "by way of Anderson's Ferry on James River, English's Ferry on New River and Fort Chissel to Major Anthony Bledsoe's on the waters of the Holston River." He was among the troops building a fort (Fort Patrick Henry) on Long Island under Colonel William Russell, then under Colonel William Christian. Fort Patrick Henry was located near present day Kingsport in Sullivan County, Tennessee.
On October 13, 1778, in Rockbridge County, Virginia, William Alexander married Anne Laird, daughter of David Laird. The bondsman for the marriage was William's brother, Ebenezer Alexander. Afterwards, they moved to Washington County, Virginia.
WILLIAM ALEXANDER AND ANNE LAIRD MARRIAGE RECORD
In August of 1780, William was drafted under Ensign William Davidson "who was engaged with a detachment in hunting the celebrated Tory, Isaac Lebo, who had done considerable damage to the inhabitants." The troops took Lebo's stock of horses and cattle and sold them "for the benefit of the United States."
In September of 1780, William Alexander joined the regiment commanded by Colonel William Campbell. William Alexander was a soldier in Captain David Beattie's Company. Their purpose was to meet and defeat the British under Colonel Patrick Ferguson. Colonel Campbell's southwest Virginia forces, along with the forces from Sullivan and Washington counties of North Carolina (now Tennessee), met at Sycamore Shoals on September 25, 1780, to begin their march (east) across the mountains to the Carolinas. The forces from Sullivan and Washington counties were commanded by Colonel's Isaac Shelby and John Sevier. In his pension application, William Alexander said his regiment "marched by way of Holston and Watauga rivers, Yellow Mountain, Green River, Broad River and at Cherokee Ford (four days march from King's Mountain.) The mounted troops were ordered ahead and the foot troops to follow. After marching a day or two, they met the mounted troops returning, the battle of King's Mountain having been fought." As a foot soldier, William Alexander assisted in escorting prisoners to the Island Ford on the Catawba River. Afterwards, he returned home to his family in Washington County, Virginia. (The Battle of King's Mountain, South Carolina was a great victory for the Americans over the British in the Revolutionary War. The battle occurred on October 7, 1780.)
That December, William Alexander went on an expedition against the Cherokee Indians. He marched under Colonel's Arthur Campbell and John Sevier to the Holston River, the French Broad River and on to the Hiwassee River. The troops were fired at by the Indians in crossing rivers and from the mountains, but had no battles. They took several prisoners and destroyed eighteen Indian towns, including the towns of Chota, Tellico, Little Tuskegee, Hiwassee and Chestuee.
As noted earlier, William and his wife, Anne, moved to Washington County, Virginia, in 1778. They settled in the Green Spring area near the town of Abingdon. William's brothers and their families also lived in the same area. They were James, Oliver, Ebenezer, Joseph, John, and Jeremiah. His sister, Sarah, who married Alexander Montgomery, also lived nearby. Some other close neighbors were Anne's father, David Laird, along with the families of two of Anne's sisters: Hannah, who married James Gilliland, and Mary, who married Robert Ferril.
Most of the children of William and Anne were born in Washington County, Virginia. They were Joseph, Jane, Nancy, James, Elizabeth, and David. The two youngest children (Ann and William) were probably born in Greene County, Tennessee.
On January 3, 1795, William Alexander and his wife, Anne, sold their land in Washington County, Virginia, having already moved to Greene County in the Territory of the United States South of the River Ohio. This area later became the great State of Tennessee on June 1, 1796. Their daughter, Jane Alexander, married William Thompson on November 20, 1804, in Greene County, Tennessee. On April 23, 1798, William Alexander purchased 268 acres of land located at Lick Creek in Greene County, Tennessee. In 1798, William Alexander was listed as paying taxes on 268 acres of land in Captain James Guthrie's Company in Greene County, Tennessee.
By 1807, William Alexander had moved to Knox County, Tennessee. On November 9, 1807, he purchased 300 acres of land located at Hickory Creek in Hinds Valley in Knox County, Tennessee. The land bordered Beaver Creek Ridge and Black Oak Ridge. William resided in Knox County until about May of 1838, when he moved to Hamilton County, Tennessee to live with his son, David Alexander.
An article in the Knoxville Register of July 25, 1838, noted William Alexander had died at the residence of his son, David Alexander, near Dallas, Hamilton County, Friday, June 15. Age about 89 years. William was also noted as being Presbyterian.

*********************************
FAMILY OF WILLIAM ALEXANDER AND ANNE LAIRD
(Information on the children, grandchildren, etc., of William and Anne.)
*********************************

*********************************
(This database co
ntains a large amount of information on my ancestors and th
eir families.)
*********************************
MY ALEXANDER FAMILY RESEARCH
Over 20 years ago, I began an extensive research of my ancestor, William Alexander. My goal was to find and collect as much information as possible concerning William Alexander, including his ancestors and descendants. I never dreamed I would find so much information. I love genealogy, collecting information, and sharing it with others. I hope my William Alexander website will be of some help to others in their Alexander family research. Helping others with their family history brings much joy and happiness to my life. If you have any questions concerning the contents of my website, please feel free to contact me. Thank you very much for your support as I continue my Alexander family research.
Floyd L. Owsley
Floyd L. Owsley
Telephone: (423) 910-0952